Video Watchdog is a cult magazine like no other, here's how YUDU helped create an enhanced digital version of this classic publication.
"I wanted the publication to maintain the look of the print edition without me having to re-design the whole thing from the top down."
- Donna Lucas, Editor-in-Chief, Video Watchdog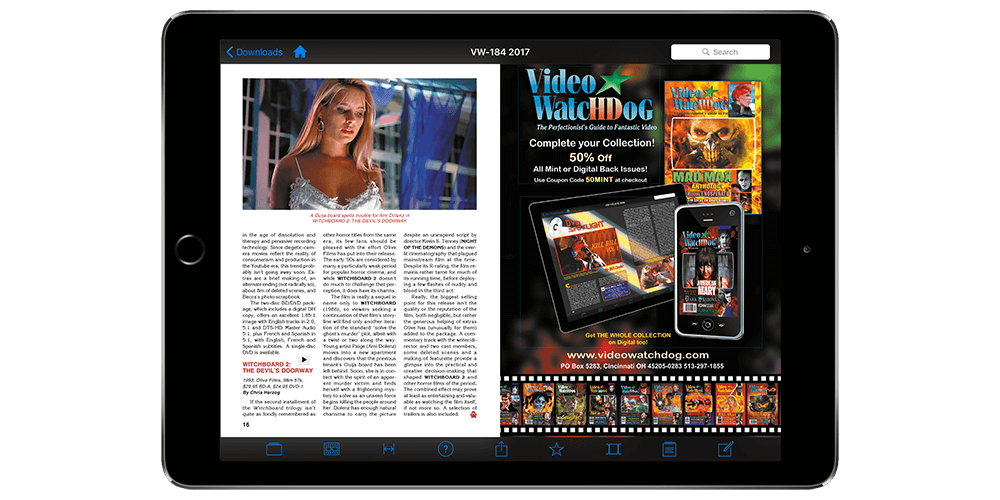 Background
Launched in 1989 and first published the following year by husband and wife team Tim and Donna Lucas, the cult film magazine Video Watchdog has since established itself as a cult publication with an army of devoted followers.
Video Watchdog is a particularly unique case in that it leveraged its dedicated fan base to create both Kickstarter and IndieGogo campaigns to pursue digitization.
The Challenge
Perhaps most importantly, Video Watchdog required a solution that included a repository for their large archives. The back issues were of considerable importance as they would be the first time many of their existing subscribers would be able to access over 3 decades worth of archived editions.
Rich media was also of significant importance to Video Watchdog. As a magazine focused on cinema, they maintain video and podcast content that can be leveraged to add value to digital editions. Any such solution however needed to be intuitive, given the limited resources Donna had available.
Like many small magazine publishers, Video Watchdog had concerns over security and required something with dependable Digital Rights Management protection that could both secure their editions and make sure copyright theft wouldn't be an issue, but also not impinge harshly on their readership.
Tim and Donna were also particularly interested in anything that could offer them the ability to sell their publication outside of the in-app framework, thereby circumventing Apple and Google's revenue share model.
The Solution
YUDU appealed to Donna and Tim because they felt it met the requirements listed above. They were initially drawn to YUDU because of YUDU Publisher's ability to recreate print editions easily and with the minimum fuss.
Subscriber management and DRM tools allowed Donna and Tim to make the transition to digital as easy as possible. For example, integrating their existing subscriber base with YUDU's subscriber system was as simple as uploading a spreadsheet, or setting aside a certain number of issues as freely available for guests to download to get a taste.
They are also giving away their current issues to attract more advertisers, while charging for their back archives. For this purpose, using YUDU's DRM is ideal because of the degree to which the client can customize the number of subscription groups, the various user privileges which they possess and so on. It has allowed Video Watchdog to create a highly unique, bespoke monetization model, including a payment portal on their own website to avoid Apple and Google's revenue share scheme.
Another area where YUDU's intuitive interface won Video Watchdog over was the ease with which publishers could bulk upload rich media content and drag and drop it into existing editions simply with a basic overlay tool.
Our wide-range of support options also meant they could always speak to someone well acquainted with the system whenever they ran into any difficulties as well, which was particularly well-received.