With the arrival of London Book Fair 2022, it's an ideal time to reflect on the evolution of textbook usage over the past 12-24 months. Specifically, how YUDU textbook technology was used during the pandemic; and how digital textbooks became the main driver in Irelands digital transformation in schools overnight.
YUDU has been delivering digital textbooks for Ireland's leading educational publishers for over 10 years. During this time, publishers experienced steady growth and adoption, yet schools and teachers still preferred physical textbooks over their digital counterparts, especially in the classroom.
The coronavirus pandemic changed that model overnight. Literally. Physical textbooks were locked away (to stop the transfer of COVID-19 via shared textbooks), and schools and teachers were forced into delivering all their content digitally - with school children and teachers downloading multiple apps to access their textbooks and resources. The digital transformation of textbooks became an instant requirment throughout the Irish Education system.
With physical classrooms re-opened, a surge in digital textbook downloads continues. Schools are conscious further lockdowns and precautiosn may be required. They want pupils, teachers and parents to have online access to all the textbooks and resources they need at a moments notice. But how are they doing that?
How to deliver digital textbooks to schools, students, parents and teachers
YUDU have been developing apps for Publishers since the iPad launched in 2010. We understand Publishers want to control the circulation and distribution of content - a major concern when entering the digital realm. To combat that, YUDU does two simple things:
Build an app - for Publishers to house all their content in one place
Protect the content - where users only with the correct login credentials, subscriptions or redemption codes can access content
For the Irish educational publishers we work with, they already had these solutions in place. Textbooks were already published to the apps, digital subscriptions were sold to schools, and the redemption codes in the physical books had already been distributed. But the adoption exploded throughout the coronavirus pandemic, when students shifted to a virtual classroom - as we can see below: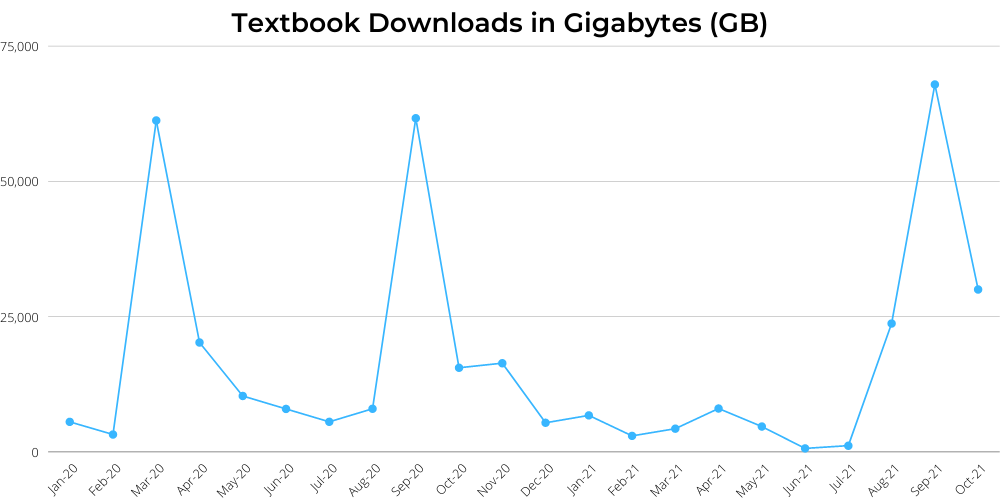 This data shows the spike in our bandwidth (in GB) delivering content to Ireland. The first spike in March 2020 was at the start of lockdown - and schools moved from physical textbooks to digital textbooks.
A second surge was in September 2020, at the start of a new term where students need to download all their new textbooks and materials.
After students and teachers returned to the classroom we saw digital textbook consumption return to pre-pandemic levels. Until August 2021, where numbers increased signicantly and held over the next few months. These figures were above the expected levels for the download of new textbooks and materials for the beginning of term. Suggesting preemptive planning with downloads to be ready for another potential closure of classrooms.
The data in between is regular traffic - where students want to access content on the web, or re-download content if they have run out of space on their device.
How to control the circulation and distribution of your digital textbooks
YUDU works best when publishers are able to sell content or subscriptions through their own website - we call this process Dual Subscriptions. Using our API, your website passes the subscription or purchases data through to our Publisher system; and from there the end-user can then redeem or access their content in the app.
This is important for two reasons:
Publishers hold and control the data on who they're selling their content to and can manage the duration of the subscription to the content and device access. Since they hold the data, it also allows them to market to the user directly.
Publishers do not pay Apple or Google any commission from their sales (avoiding in-app purchases and subscriptions). Importantly, since in-app purchases are handled directly by Apple or Google, who made the purchase is unknown.
Back to class, back to print?
Schools have seen great value in digital and the teachers adapted to the digital shift - providing some great feedback and insights that will help inform our digital roadmap for the year ahead.
While physical textbooks remain an important learning tool, early investment in digital solutions by educational publishers in Ireland ensured children continued to learn and had access to the same materials when they needed them most.

The main point of contact for clients in the UK, EMEA and APAC regions. David is the go-to person at YUDU for client training, overseeing projects, and general advice regarding the platform and technology.